Adam Liaw: My most useful recipes are teriyaki chicken, and fat pocky
This teriyaki chicken is probably my most commonly made dish, but it's the sauce that's the star. This recipe is dead easy and stores well, ready for all kinds of uses.
• 4 chicken thighs, skin-off
• 1 tbsp cornflour
• 1 tbsp vegetable oil
• 2 tbsp Japanese mayonnaise, to serve
Homemade teriyaki sauce (makes 650ml)
• 250ml light soy sauce
• 200ml mirin
• 200ml sake
• 60g caster sugar
For the homemade teriyaki sauce, mix the ingredients together in a small saucepan over low heat, until the sugar is just dissolved. Transfer to an empty wine bottle and set aside. This will keep in the pantry for years.
Slice the chicken thighs into large, thick medallions (perhaps 1 thigh into 4 pieces) and toss in the cornflour to just coat. Heat a frying pan over high heat, add the oil and fry the chicken until just browned on all sides but not yet cooked through. Add about ¹/ ³ of a cup of teriyaki sauce and bring to a boil. Turn the chicken through the sauce for a minute or two to coat as the sauce thickens. Arrange the chicken on a plate and serve with mayonnaise.
Adam's tip The homemade teriyaki sauce can be stored in the pantry for years and used for all kinds of dishes: meat, pork, fish, chicken – anything really.
Fat pocky
Serves 25
Ever had to bring a plate of food to a kid's party or school function? Cheap, fast and easy to make for a crowd, this recipe is the perfect getout-of-jail card for when you've been sprung with a last-minute request.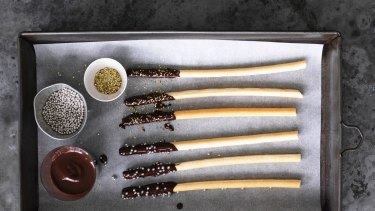 • 375g dark chocolate
• 1 packet plain breadsticks (grissini)
• 2 tbsp assorted sprinkles
Place the dark chocolate in a heatproof jug and microwave on high for 1 minute, and then for further blasts of 30 seconds until completely melted. Depending on your microwave, it may take 3-4 minutes to melt completely.
Line a baking sheet with baking paper. Pour the chocolate into a small glass and dip the ends of a bread sticks into the chocolate. Shake off any excess chocolate and lay the bread sticks on the baking sheet. Repeat for the remaining bread sticks, topping up the glass with chocolate every 3 bread sticks or so.
Scatter the bread sticks with sprinkles before the chocolate hardens, then leave for a further 20 minutes or so to harden to the touch (they will harden completely after about 1 hour). Pack the fat pocky into a container for transport.
This article appears in Sunday Life magazine within the Sun-Herald and the Sunday Age on sale May 19.