'I was becoming ungrateful': Tim Rogers on You Am I and running scared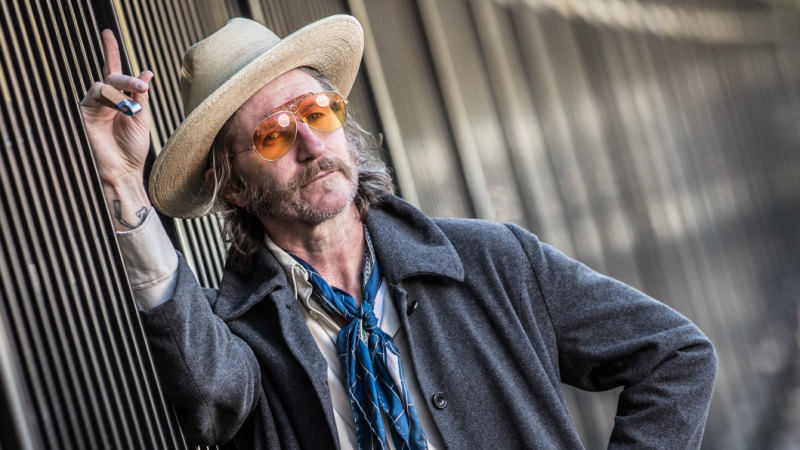 The You Am I frontman calls it "a loose extension" of his Friday afternoon Double J radio show, Liquid Lunch, though struggles to concisely describe the concept. ("I'm painting a very confusing picture, but when something's in creation that's the way it has to be," he says.)
Ostensibly, though, it's a late-night radio variety show brought to life, with Rogers as the host.
"Over the past couple of years I've been requested to write fiction, and I always write songs, and I was also developing some theatre projects," he starts. "And I had a TV show on cable a bunch of years ago [Studio at the Memo], [and wrote] the scripts for that with Brian Nankervis. I wanted to pull all these elements [together]."
Referencing productions such as Garrison Keillor's A Prairie Home Companion, Spike Milligan's The Goon Show and "a little bit of Graham Kennedy", Rogers has assembled an ensemble cast including Georgia Mooney from folk quartet All Our Exes Live In Texas, broadcaster Jonnie von Goes, Broads duo Kelly Day and Jane Hendry and Tony-nominated sound designer Russell Goldsmith.
Though there will be special guests and an interview component to each show, as well as live music and quizzes, there will also be a fictional element that Rogers has co-scripted with Aidan Fennessy, who helped adapt Rogers' 1999 solo album, What Rhymes With Cars And Girls, into a 2015 stage production.
"The concept of Bohemia Heights is something I've been working around for a while," says Rogers. "The way I live my life is in this faux-Boho Demi-monde existence; I'm largely estranged from responsibility. So as an extension of this, Bohemia Heights loomed in my imagination.
"It's aspirational in wanting to live somewhere where there seems to be art and conversation and humanitarian action everywhere you turn. I just started writing sketches about it."
In addition to fronting You Am I for the past 30 years, Rogers has also dedicated a significant portion of his life to following his creative muse into other fields, be it as an author or working in theatre, film and television.
His is a fearless approach, albeit one laden with fear.
"I got offered a film role a little while back which is going to be a massive challenge, but doing something that scares you is really good for you."
Learning new disciplines also gives him an appreciation for his "day job".
"It makes me appreciate playing in a f—ing loud rock'n'roll band a hell of a lot more," he says. "I think I was becoming ungrateful at how lucky I am to still be in a band that I love. I was maybe worrying, 'Oooh, we're not selling records anymore and less people are coming.'
"I don't want to be that angry guy at the end of the bar. So doing these shows that involve this work, it's difficult but it's really rewarding, and I'm grateful I get the opportunity."
Liquid Nights In Bohemia Heights is at Giant Dwarf, Chippendale, on June 8 and June 9.