Where To See Victoria Day 2018 Fireworks Across Ontario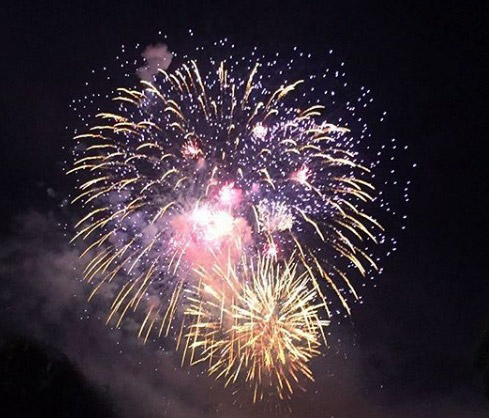 Photo: judit_redefinedme on Instagram
Often considered to be the unofficial start to yet another Canadian summer, Victoria Day is fast approaching and we can soon expect to hear the crackle and see the sparkle of fireworks decorating the sky. Whether you are heading off to Niagara Falls for the weekend or enjoying the long weekend at home in Toronto, there are numerous Victoria Day events and fireworks spots to check out. While we might not be able to pack a picnic for you, pick up that cooler or gather your closest friends and family for the night, we can certainly share our guide to embracing the May 18 weekend! From family outings to a cozy date night, we've compiled a few popular ideas for celebrating Victoria Day in Ontario.
Woodbine Beach- Toronto, ON
On May 22nd at 10 p.m., there will be another evening of fireworks at Ashbridge's Bay Park. Meanwhile, there is another display located at the Boardwalk Place, which is walking distance from Ashbridge's Bay and can be viewed from Woodbine Beach.
Commissioners Park- Ottawa, ON
This year, Victoria Day fireworks will overlap with the Canadian Tulip Festival in Ottawa, which runs on the weekend from May 11th-21st. Enjoy a fireworks show among the tulips at Commissioners Park. The fireworks will be shot above Dow's Lake at 8:00 p.m. on May 20th.
Niagara Falls- Niagara Falls, ON
On Victoria Day, May 21st, the falls will feature a special purple illumination every hour for 15 minutes. Spectacular fireworks will explode over the falls from May 18th-20th, and will begin at 10:00 p.m. on all four evenings of the weekend.
Fanshawe Conservation Area- London, ON
The Fanshawe Optimist Club of London will host a fireworks show on May 21st. The show will begin at dusk and will cost $20.00 (cash only) per car to enter. Although this is not a free display (unlike many of the others in Ontario), it may be a possibility for anyone spending their long weekend in the London area.
Photo: judit_redefinedme on Instagram
The Milton Fairgrounds- Milton, ON
The Milton Fairgrounds will host the Milton Boomfest Family Fun Fair and Fireworks Festival over Victoria Day weekend, which will feature two nights of fireworks on May 20th and 21th. The fireworks will begin at dusk and admission to the grounds is $3.00 per person. Children under four years old are free, which makes the event family friendly for those with little ones in their lives.
Canada's Wonderland- Vaughan, ON
After spending the day chasing thrills at Canada's Wonderland's and stuffing your face with sugary confection treats, you can witness a fireworks show which is said to feature over 6,000 explosions. The 15-minute show will take place on May 20th at 10:00 p.m. Daily admission starts at $39.99 a person, which makes this an option for anyone in the mood for rollercoasters and also an explosive, colourful end to their day.